Flying with kids is most parents' worst nightmare. Flying with kids on a private jet on the other hand seems like a dream. Make sure to consider all options while choosing the right plane that will service your needs and will make departure and arrival smooth transition. Bigger seats or bed helps keep the kids happy while the parents enjoy some much-needed rest and relaxation.
How soon can I fly with a newborn baby?
There are no specific regulations for how soon you can travel with a newborn baby. As soon as you are ready and have a valid passport in place for your baby you are free to go. You might want to wait six weeks after the birth, if birth was given by C-section, or it may be necessary to get a doctor's letter. Baby can travel on your lap until the age of two years old. From aged two onward it is required by law that he or she has separate seat. You might consider bringing car seat on board the private jet, that can be strapped in a rear-facing chair.
Can I take baby food on board?
Private jets offer catering services that can meet all of your family's needs. Baby food and baby milk can be taken on board or can be arranged for you by catering company. Special food can also be prepared as required if your child has any allergies or intolerances, or if you and your family have specific religious requirements.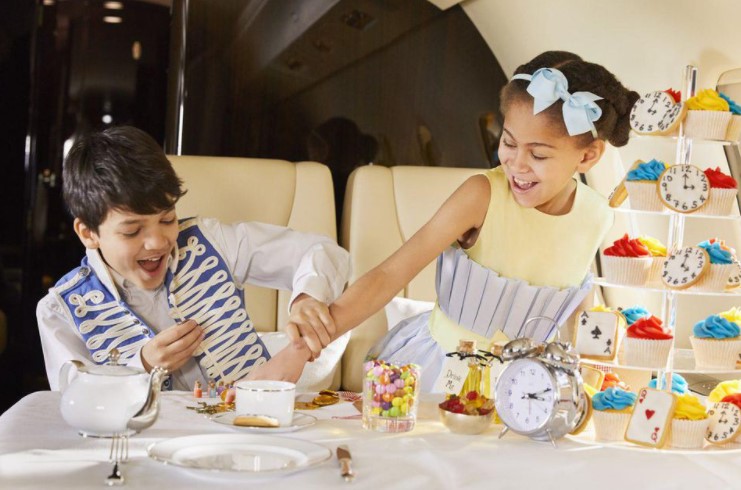 To help kids pass the time, flight attendants often distribute snacks or toys, colouring books, pillows or blanket for extra comfort during an onboard family movie night. Most private jets have on-board entertainment systems for VIP customers and their children. To ensure the most relaxing flight for parent magazines and newspapers are available on board of most flights. Children may be treated to a tour of the cockpit from the vantage point of the captain's seat. Imagine that excitement when they get to meet pilots up close and visit the flight deck.
Can I take my pram or buggy on board a private jet?
There are far fewer luggage restrictions when traveling by private jet. You can take your kid in a pram or pushchair straight onto the private jet. Buggy can be accessed in the luggage compartment or stored away in the cabin, for easy access. All equipment can be ready and waiting for you as you leave your plane. If you wish, ground transport can be arranged for you to and from the private jet to ensure smooth and comfortable trip.